November 26th, 2008
Very often when I go for a gap in blogs but have something interesting to write about, such as now, it's because the material that I want to write about is so heavy that I need to spend some time processing before I can even to begin to write about how I feel about something.
This weekend I participated in what is the neatest event that I have ever been involved in while being a professional poker player.
It all started like this. Darlene, who has been diagnosed with terminal liver disease, has been given 18 months to live. She e-mailed Full Tilt, explained her situation, and said that it is a dream of her's to play Gavin Smith head's up. They forward that e-mail to Gavin, and instead of playing her online as she requested, he, with no other influence other than his own, decided to go one step further. Through a coordination of Full Tilt and the River Rock, with no media exposure or anything, they flew her to Vancouver on Friday, picked her up at the airport, and put her up in a suite. Her husband, mother Valarie, and … step-father? not sure… Ed, came as well.
On Saturday at 2pm the four of them met Gavin and I in the tournament room. Daryl (further proof of him being the best ever) provided a table, dealer, and chips for Gavin to do whatever it was he wanted to do. They started a heads up game, 100-200 with 10k behind, and we basically just started hanging out. Gavin is an excellent host and made everybody feel comfortable and got everybody laughing. Now, there was zero publicity for this. Zero announcements. So, by word of mouth it started spreading that Gavin was playing this girl heads up. They had no clue why, but crowds gathered to watch. Darlene got a chip lead on Gav 13k to 7k, I bet Gavin $100 on him vs. Darlene, and by the time Tiffany Michelle, Maria Ho, Dennis Phillips, Lacey Jones, and Liz Lieu had filtered down to join the party, Darlene beat Gavin by spiking a K to make broadway on a QTx flop vs. Gavin's Q8 (ship the brownie :). In the meantime Daryl got a set of chips courtesy of the River Rock, and all of us signed the front of the case. Daniel who was still in and on his way to winning the main event took some time to sign the case and take pictures, and Brad Booth signed it as well.
After Brad got down we started a sit and go with Darlene, Granny (mom), Colin (husband), me, Lacey/Brad, Maria, Nitesh who was celebrating his 21st birthday and had partied with us all the night before, Tiffany Michelle, and eventually Dennis Phillips after he busted from the main. The donkament turned into total silliness, but we had a great time. Here's some pics: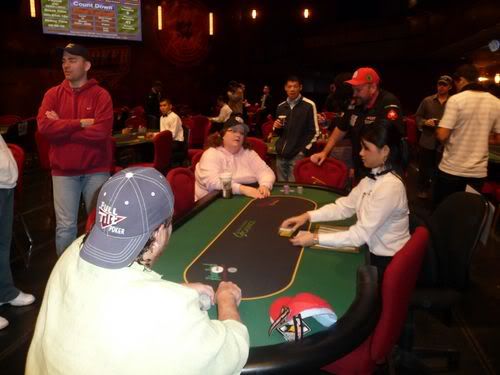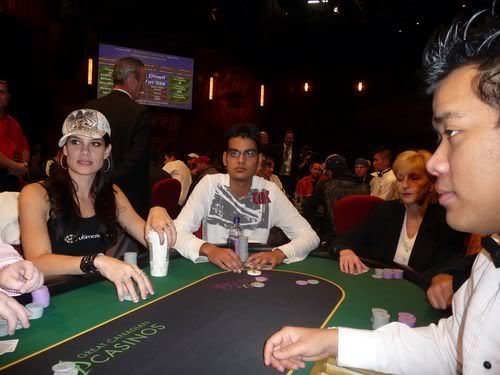 Now, this was an amazing afternoon. We spent 4 hours there hanging with them, and they were the ones that were like, "Well, we're going to go to dinner so see ya later." This was my first time that because of poker I had the opportunity to genuinely make somebody's life better. I've always had issues with poker as a profession due to the nature of it. I've always wanted my life's work, my legacy, to be something that was based on the business of helping people. I want to make lives better in whatever it is I am doing. There are plenty of opportunities to do this in poker due to the communal nature of the game, but this felt unique enough that it was on a scale that it totally altered my paradigm.
On the flight home Gavin and I both discussed how we wanted to do this so much more. The idea of doing anything we can to make people stoked sounds like a betterment of the world to me.
---
I won my first tournament outright tonight since mid June when I won a WSOP main double shootout satellite. This one was on the site that shall remain nameless cause it's still really juicy. It was a nightly $30 rebuy, I got in for the minimum ($90), and long story short shipped it. Most interesting hand:
62 left, 60 pay, we're 4th in chips with 60k, blinds 500-1k/200. UTG+1 open ships for 15k, I call in MP with QQ, next to my left overcalls for 14.5k, and third in chips on the button ships 64k. Wow really? I'm paying 45k for a shot at just under 120k and I have queens. And I've been involved in like every pot. And I fold, feeling realllllly good about it.
First shover rolls over AKo. Button rolls over AKo. The overcaller has T7o.
Misclick? Hates money? They're just that bad on this site? I DUNNO!!!! I was in shock, and then really stoked when an ace hit the river :). I left myself a top ten stack in a really soft table and ran it to the win. It was like $6k and change :).
Yesterday was travel home from Vancouver day. Gav and I basically broke even playing gin, however we did pull off the skunk/re-skunk and I almost did it again with a 100-6 win in the next. Shelley picked us up, took us to Gavin's place, I got my truck, and then was basically lazy the rest of the day.
Sunday was a great day. I made it up in time to be down for the start of the TV taping for the BCPC main final table. Gavin and I picked 5 horses each with four tables left, and three of mine vs. zero of his were at the final table for a nice $500 bet. Daniel was one of them and won the thing. Well played sir!
I got bored though by the time the cards got in the air. There was like an hour delay to the start, and I decided that I was going to play online. Long story short, good choice, I took third in the FTP Sunday Mulligan for $21k.
I had to bust third so that I could make the party that night. Daniel and Adam (kid that took 2nd) and company were finishing dinner and fixin to go downtown (again… lol), and I was in! I'll let the pics tell the stories :).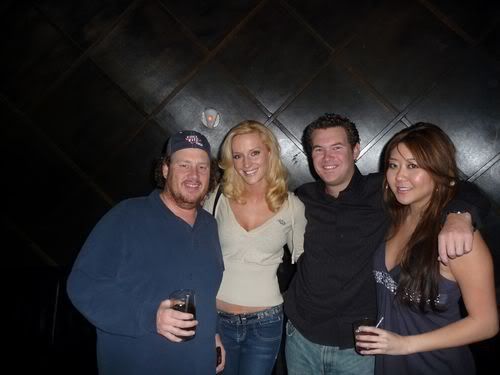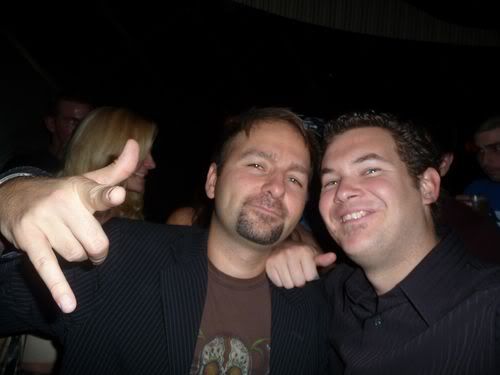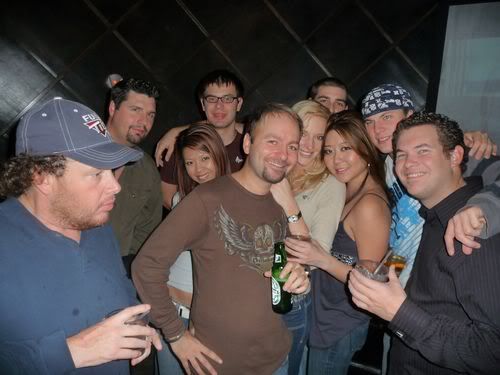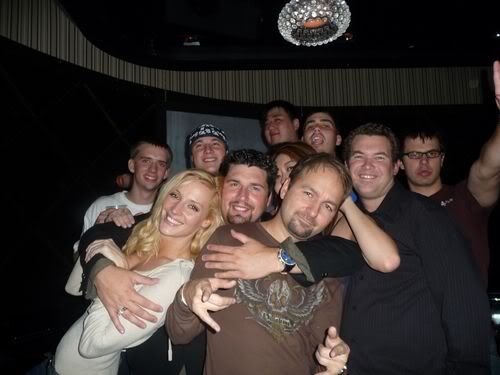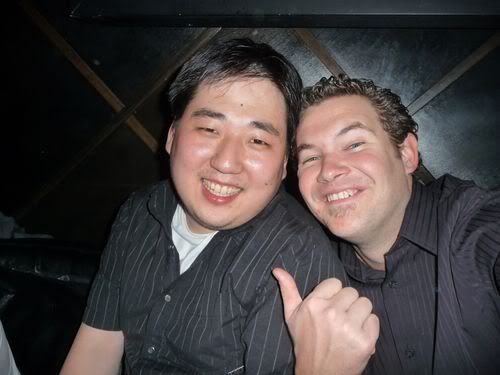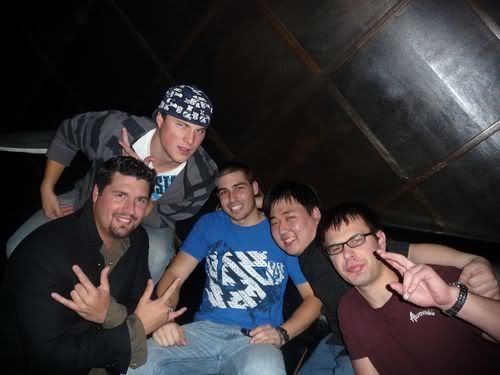 Ok, that's a good blog. I'll quit there.
Tomorrow I'm heading to LA for Thanksgiving with the fam, back on Friday ready to play the first event of the Five Diamond (?) at the Bellagio on Saturday.
Peace and good luck,
Devo
Filed under: Uncategorized | 3 Comments »