July 28th, 2009
1:10 am in my third hostle, am gonna give you the adult photo book this time.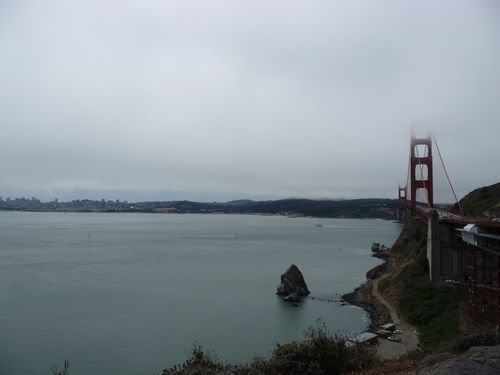 Just after crossing the Golden Gate bridge for my first time ever, my mood the highest it would be probably all day. The fog would follow me for all 350 miles I had planned for over 95% of the coast. It was a wet, cold, and gloomy fog, and throw in the fact that the Shoreline Highway (CA-1 from Frisco to the 101 right by the drive-thru redwood tree, which I didn't see cause they wanted to charge me $3 and I went all Chainsaw on their asses) is extremely windy (wine-d) and windy (wind-y). Took me 3.5 hours to cover 100 miles to here: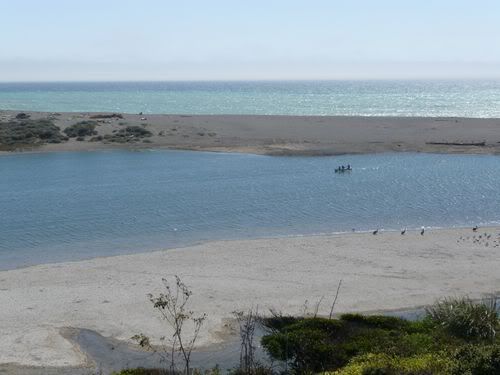 This was Gualala (Gua-La-La… love it), cool spot little town on the beach, and my last look at sunlight until I would leave the coast and head through the redwoods. I severely underestimated the road and ended up pushing it really hard and still didn't make it to my destination, the Redwoods State Park Hostel, until 10pm. Everybody was asleep lol. Woke up at 8:30, made coffee and pancakes with a Euro named Adam and a family from Rhode Island, then left to head north for a bit before finding a hotel somewhere and playing online.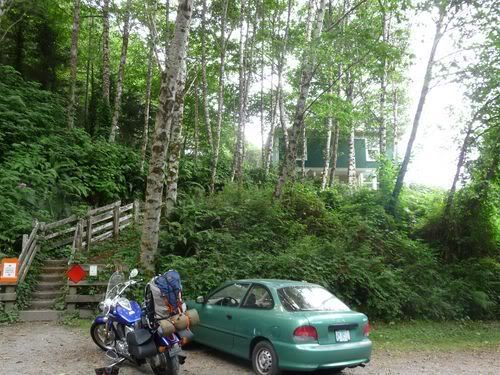 Shortly after crossing the Oregon border I pulled off the highway to check out a "viewpoint" which turned out to be a steep trail but this old dude told me that if I "ride my motorcycle over there by that guard rail there's a parking lot that cars can't get to where the trail is easier." Seems like he knew what he was talking about so I found myself riding my laden street bike along a dirt singletrack against traffic just separated by a guard rail, and sure enough after 75 yards or so I found an old parking lot. Prob from before the guardrail, it was just before a bridge crossing. So I walked down the trail.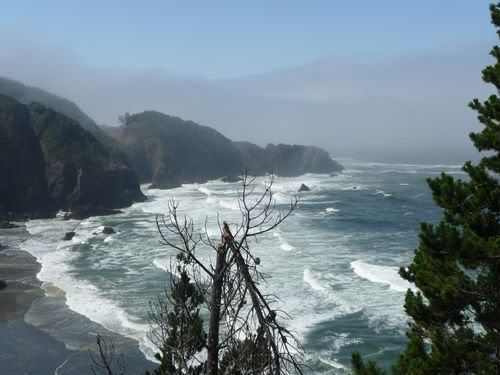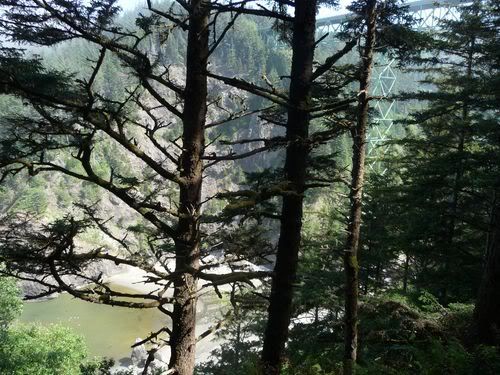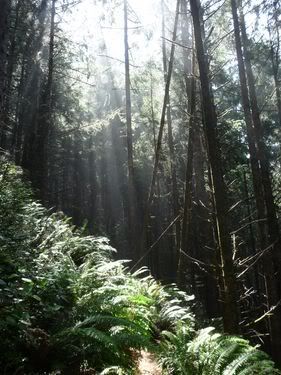 Mid hike the fog lifted pretty much for good. I've had it awesome for the entire Oregon coast and have loved it. About 30 miles later I came across this gem of a beach: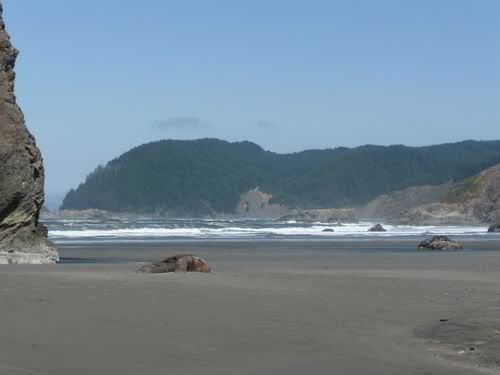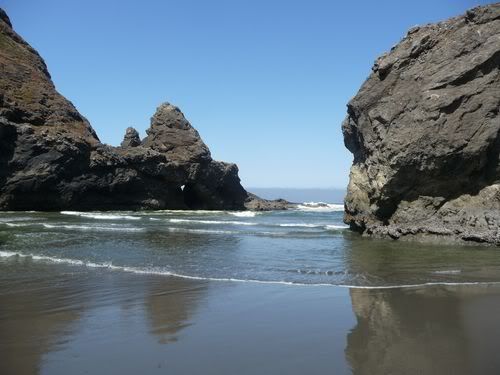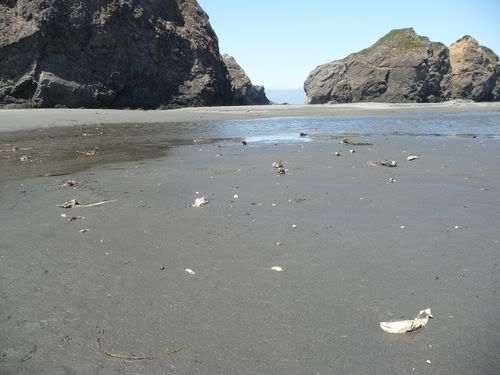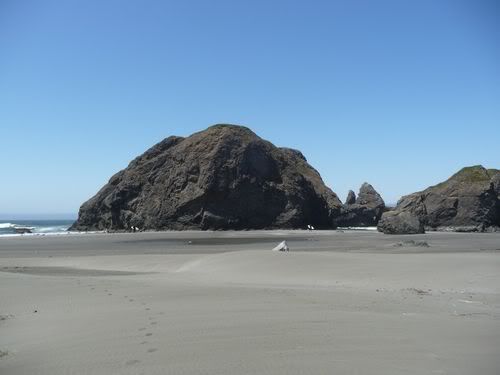 Just before leaving I met a couple on a bike who recommended Bandon, OR for my next stop, and they hit the nail on the head. T'was perfect. Got an awesome room cheap, played online, took 15th in the 75k by punting while recording live for PokerVT, and then headed to the bar. The ones in Old Town were closed, so I ended up at the Quarterdeck in Uptown (no more than half a mile up river from old town). This was an awesome dive bar experience and several of us were in like a six person karaoke rotation, with the KJ throwing in the occasional Scaryoke where he picked the song for you. He made me do Sloop John-B by the Beach Boys in honor of my "thongs" (Rainbow sandals). We were having a great time until this awesome (in the lol way) greasy redneck sticks his head in the door, yells at Courtney (the hippie chick with the awesome voice who now was a jeweler in town and has lived here all her life), and two girls walk out the door with their tails between their legs. Then the bartender said 12:45 to the KJ, things died, and I went to the hotel.
Next day I packed the bike, put on all my gear, and pulled onto the 101. Caddy-corner to the hotel is a restaurant that looks awesome, and it was. My picking awesome restaurants while riding by skill has been top notch this trip, I've had some amazing meals. 100 yards later I take off my gloves, camel back, helmet, glasses, iPod, leather jacket, and head into the diner.
So after the day before being my favorite stretch, today got awesomer. The whole Oregon coast is just amazing. I'm sure I could spend just a week here, but I think if I took my time thaaat much Shelley would kill me before I got back to Vegas.
After riding past mile after mile of sand dunes on my left and forest on my right north of Coos Bay the road returned to the coast and climbed a hill. Near the top was the crowded Sea Lion Caves, too crowded for my taste but I stopped in for a break anyways. I got suckered into paying $11 because the cave is the largest sea cave in the US and they had an elevator down to it. Glad I did: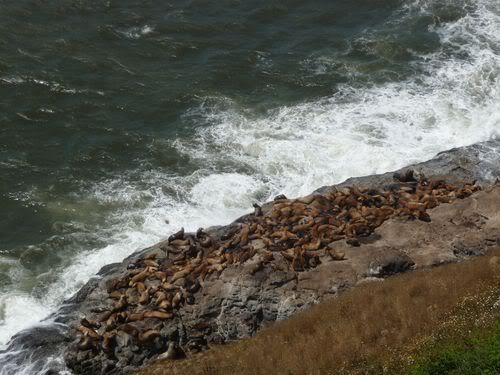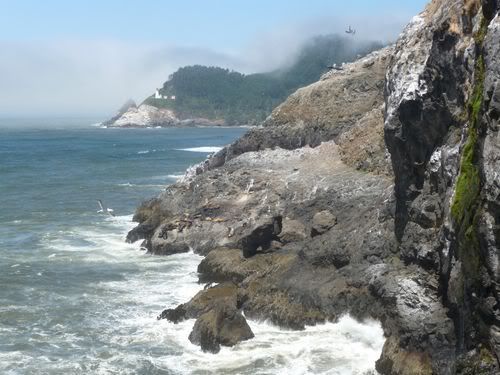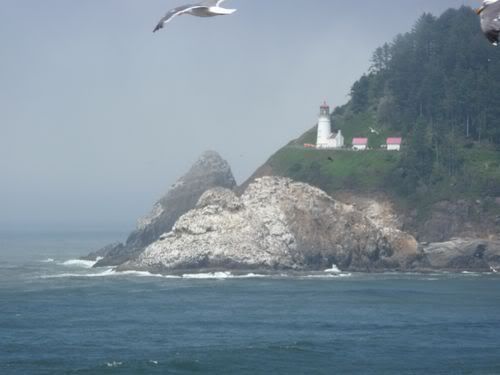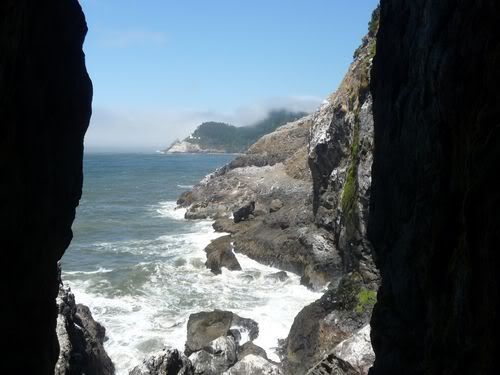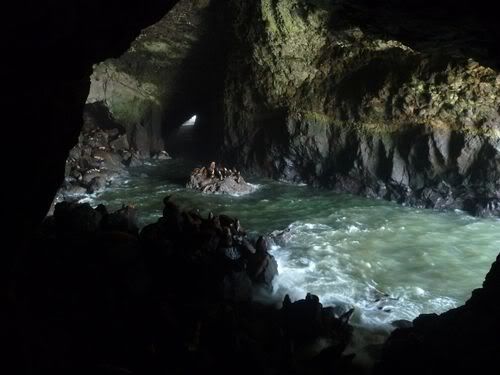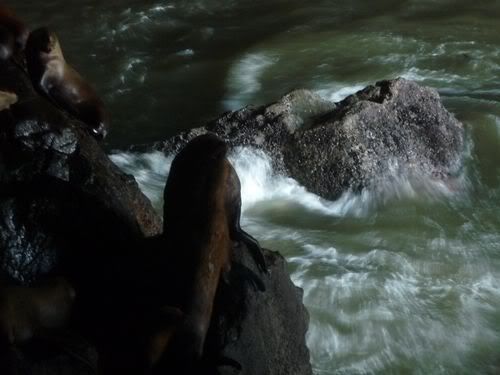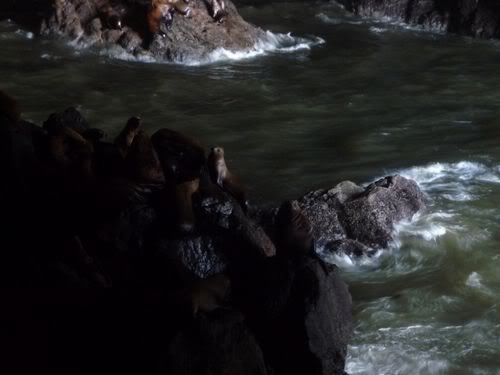 From there I left the parking lot and got stuck about six cars behind a construction truck in the only lane going 12 mph with a LED sign that said "Do Not Pass, Wet Paint." I assumed that this couldn't take long, followed, and we went like 3 miles at this speed. When he pulled off I passed those 6 cars super fast like, and the guy was yelling at me or something. Apparently the paint I passed over was still wet. Then why did he go so slow only to pull off early is what I yelled back at him, but I don't think he heard me. I made it across the bridge to Newport, saw the Rogue Brewery and decided to stop in for a tour, but got distracted on the other side.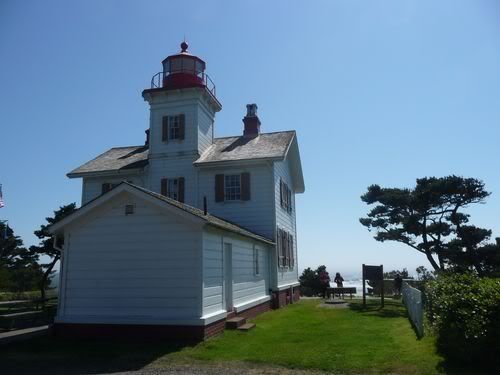 This lighthouse was open to go snoop around in and I took advantage of that, my helmet on the whole time because I thought it was gonna be a quick stop. I spent enough time there that I thought it'd be better to continue along, and I'm glad that I did. I came to a turnoff about 70 miles from my destination called the "Three Capes Scenic Loop". I rode for about ten miles through awesome country, and then finally found the spot I was looking for.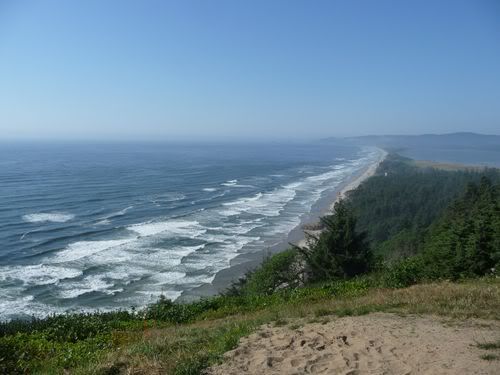 The sandbox there turned out to be a hang glider launch spot, dedicated to a dude that died this year and was a pioneer of the sport. I spent about 20 minutes chilling out there. Way off in the distance are three islands and I could see that the middle one was an arch. I kept going, eager to get a closer view.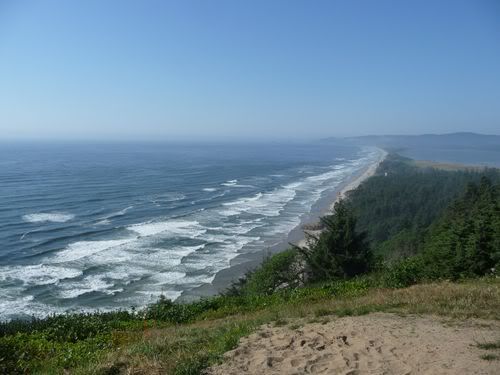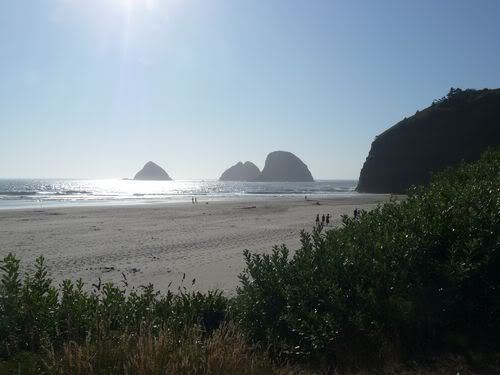 I then continued along the backside of the third Cape, found another lookout point and lighthouse, and spent some time at another awesome place.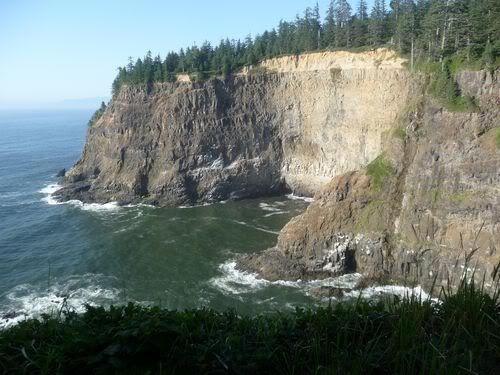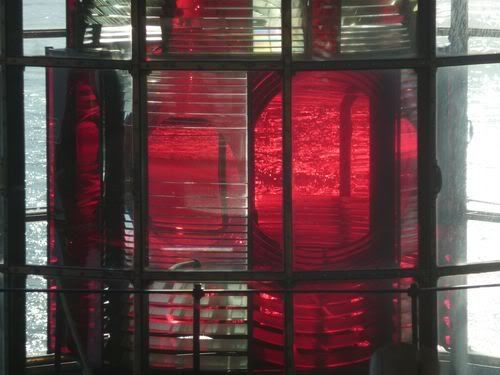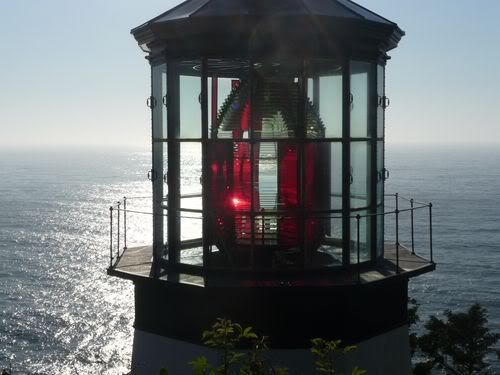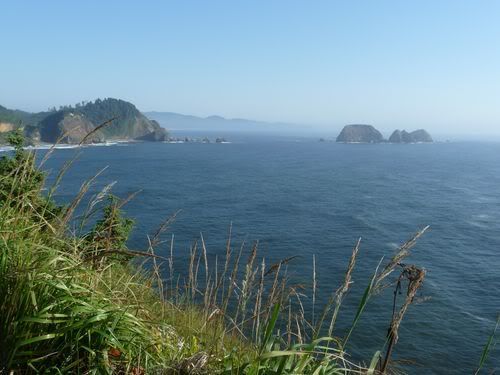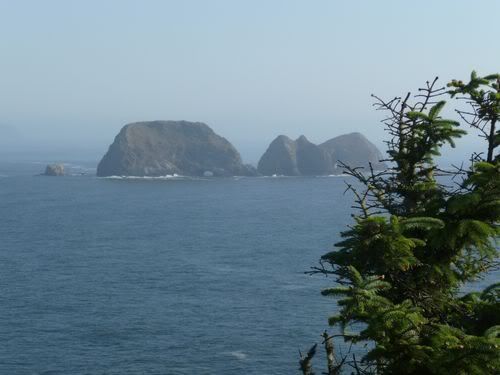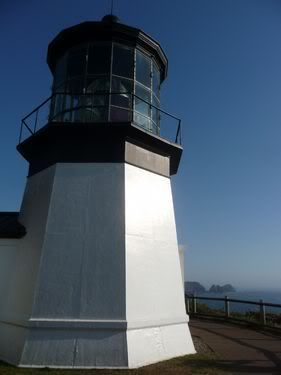 Tomorrow I head up to Rick Fuller's place, then into Canada on Wednesday.
Peace and good luck,
Devo
Filed under: Uncategorized | 5 Comments »