December 28th, 2010
I just gave my step-grandmother a goodbye hug as I've done for the last 28 Christmas Eve's, except this time she said "I'll probably never see you again." She's telling the truth. Before they were dropped off by her son, Mom told me that she'll be lucky to make it to New Year's Eve and that February is impossible.
For years I dreaded Christmas Eve because my Mother's family is nuts and it's their night. One uncle went to Alaska to be a fisherman, but sunk two boats in those endeavors. Another is on a lifelong marble hunt, currently homeless. I'm pretty sure the third is missing marbles too but isn't trying to find them. My grandmother died before I was born, and I've only ever known my step-grandmother who was consistently bitching at my grandfather. That ruffled his feathers and he bitched back and I didn't want to be around, finding solace in the Legend of Zelda played on Mom's TV upstairs for the only night a year I was allowed to.
Several years ago my grandfather's health started deteriorating as he developed Alzheimer's. That first Christmas Eve when he started repeating himself was the best one we'd ever experienced. It seemed to me like they received a wake-up call that year, realizing that their time was running too short to be pissed off at each other. I thoroughly enjoyed the next few years with them and for the first time in my life really got to liking them.
My grandfather is an old Irish feller, thick glasses magnifying deep eyes roofed by bushy salt and pepper eyebrows. He's completely lost his short term memory but can entertain for hours perfect monologues of Yeats or Weatherly with a rich, baritone voice that belongs in a Dublin pub. She's been quite a sweetheart the last few years, really enjoying him and their time here, sharing stories of the adventures they've had together with smiles.
And this year she's dying. She wanted things to be like normal and they were. She told a story about a 3 month long 14,000 mile road trip she took years ago. We had dinner and made fun of Mom's jello dessert just like every other year. We skyped my sister Sarah, their heads exploded when she appeared on the computer screen, and then couldn't wrap their minds around the fact that she could see them too. Grandpa asked her four times how the weather is. We called it a night and I escorted her through the muddy backyard thanks to the 13,472 inches of rain Southern California got this week. She was moving really slow. Getting up out of the chair looked like a mission. I heard her talking to herself, "I hate this," and I can't imagine how much being in that spot must suck. I gave her a hug, she said, "I'm probably never going to see you again." I had no idea what to say; squeezed. "Take care of your mother, otherwise I'll come down and haunt you."
"Promise?" Is all I could come up with. "Yes!" Squeeze. Goodbye. Good night.
Walked inside and started writing.
---
Landed in Vegas Tuesday night, took a cab to my buddy's place to get keys to my brother's place because his mother's house was in danger of being washed down Lytle Creek in Southern California's San Gabriel Mountains and he was there throwing sandbags. I made it to my car parked in his garage, was jonesin for some live poker and food, called the Venetian and got on their 5-10 list, drove down, parked, walked in, and the game was breaking as I walked up. They looked at me, I recognized a couple of them, and the game still broke. Sad. Took it easy that night, finished a book based on Tom Clancy's End War video game that was terrible and started Bill Bryson's In a Sunburned Country which I'm pretty excited about so far.
Wednesday was Christmas shopping day, way ahead of schedule, and I started and finished that morning. Turns out Vegas is kinda nice before noon. I went home and put in a 4 hour session on UB, winning $800. The Half Shell staff party was that evening, like eight of us ended up coming back to Jared's in a handicap accessible taxi that fit us all like clowns in a Cadillac. Turns out the river did indeed run through his Mom's place with water lines on the walls just under the living room windows, the extent of the damage is yet to be determined, and the only way he himself made it out was with a Ford F-250 diesel, leaving the little white car he drove up there parked.
Thursday morning I woke up, packed my stuff, and drove to LA with the plan being to ride hydro-bikes with Cory and friends in Long Beach. I had no idea what to expect, but was stoked with what we ended up doing. We were on the Seal Beach side of Long Beach in that harbor and rented these bicycles for the water. They were essentially a bicycle with two floats attached like on a Cessna, the front tire exchanged for a rudder and the back tire traded for a paddle-wheel. They were bomb proof and you'd have to be an idiot to fall in the water off one. We paddled across the harbor and into the Naples canals, pedaling past gondolas and tourists in a christmas light wonderland. Carolers abounded, wishes of Merry Christmas and Feliz Navidad were being exchanged between people everywhere, and it was a completely unexpected magical evening that I highly recommend to anybody in the area this week.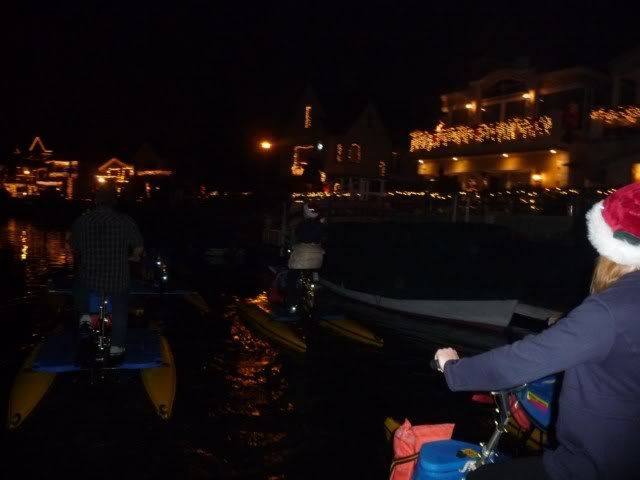 Peace and good luck,
Devo
Filed under: Uncategorized | No Comments »