March 30th, 2011
This place is rad. I've never been to Hawai'i before or anywhere Qest of Oregon for that matter and I love it. I flew to John Wayne on Tuesday, was stoked to see Cory, and then we were on the road at 6:30 the next morning to LAX for a flight to Honolulu and then on to Lanai. We arrived in the afternoon and were checked into our villa by about 4pm. Went to a local Farmer's Market, bought some fresh fruit and veggies, cooked dinner, chilled out, and called it a night.
The following morning our mutual friend from camp in 2002 flew into town. She has been spending spring break on Oahu and accepted an invitation to come hang for a few days. We had breakfast and set out seeking adventure somewhere. It was windy so we decided to head West and inland to go for a hike, hopefully getting out of the wind. Destination: Waimea Canyon, the "Grand Canyon of Hawai'i" according to Mark Twain.
We drove in on 552 stopping at the appropriate viewpoints along the way.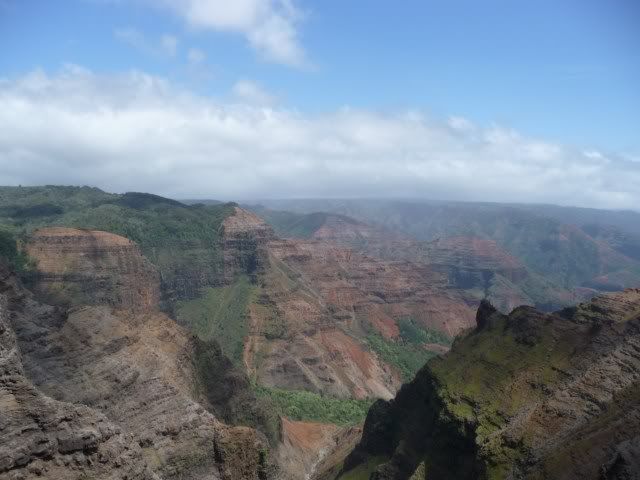 This is around the corner from the first one. I was super fascinated with how the waterfall just vanished.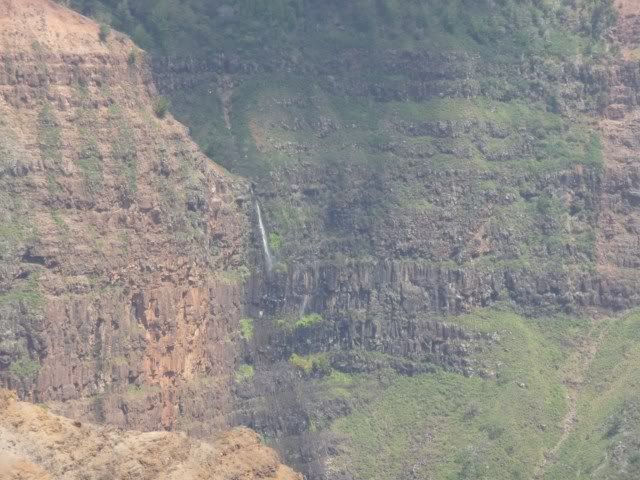 We continued to the end of the road where we found this viewpoint. Turns out it matches the original art in our living room hanging above the couch. The artist's vantage point was just slightly to the right of where I was standing taking this pic. We realized this when we got home and giggled about that for a while.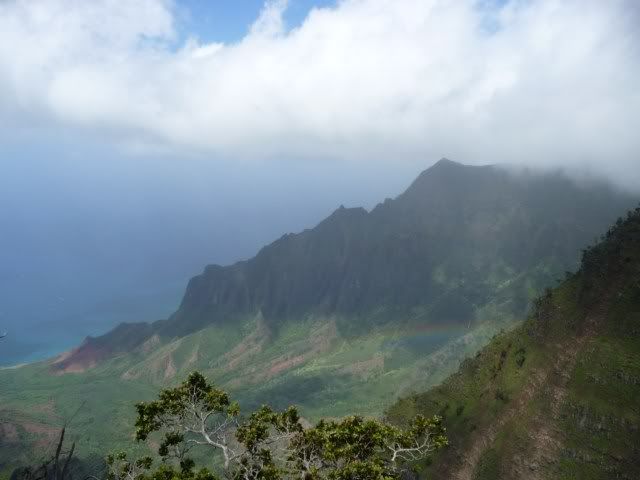 From here we made our way a few miles down a dirt road seeking our trailhead. I found lots of muddy puddles to hit with the jeep and we eventually found what we thought was our trail. It was pretty well defined but was definitely a trail through the jungle.
It wasn't the trail we were seeking. After about a quarter mile we came to a spot where a landslide wiped out the trail, it was impassable, the side trail was no good, and we went back to the jeep. A few hundred feet back up the dirt road brought us to another false trailhead, but then we found what we were looking for in the middle. Very well defined trail following the opposing ridgeline from where we were before.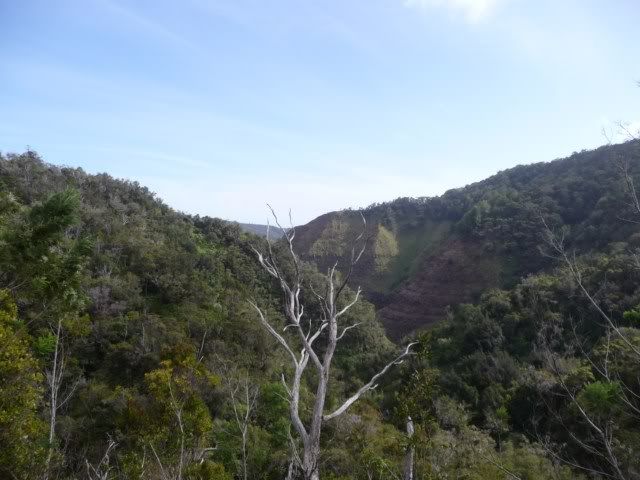 We walked into Waimea Canyon along the trail, enjoying a truly magnificent place.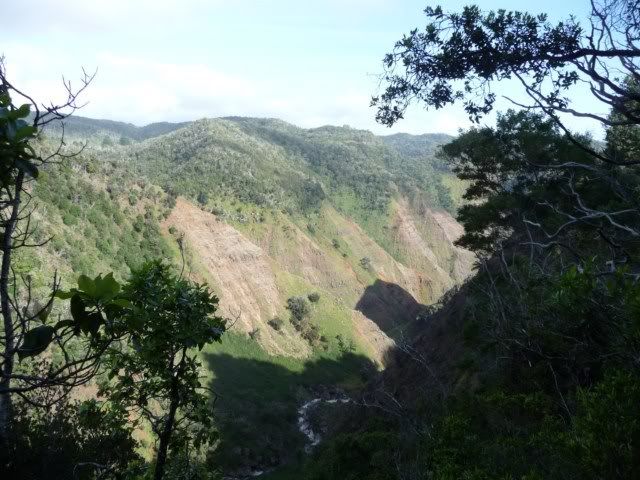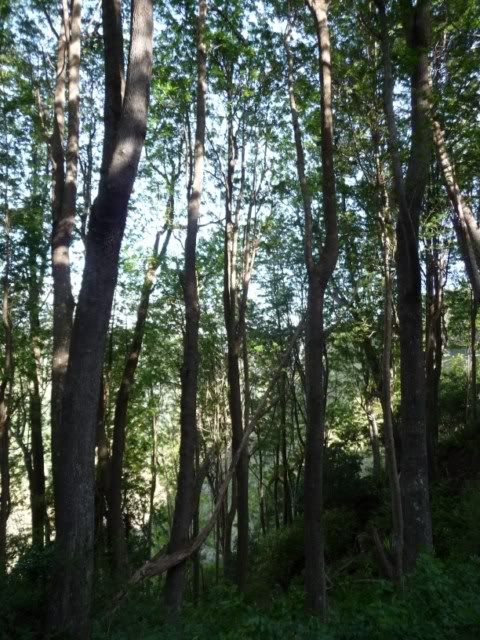 After a couple of hours we were getting in there and I spied a sign on a pretty exposed point reaching into the canyon. It was late enough that we should start thinking about heading back so I proposed that we investigate that trail and it was one of the better ideas that I've had.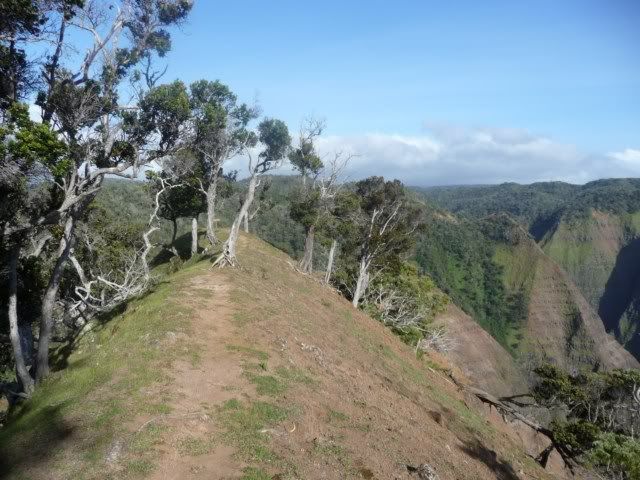 The trail led out of the jungle and onto this knife ridgeline with a better than thousand foot drop on either side. It was extremely windy and there was a seriously legit risk of being blown off the ridge to death. We were super careful and rewarded with a piece of real estate that I believe to be the most magnificent place I've ever stood.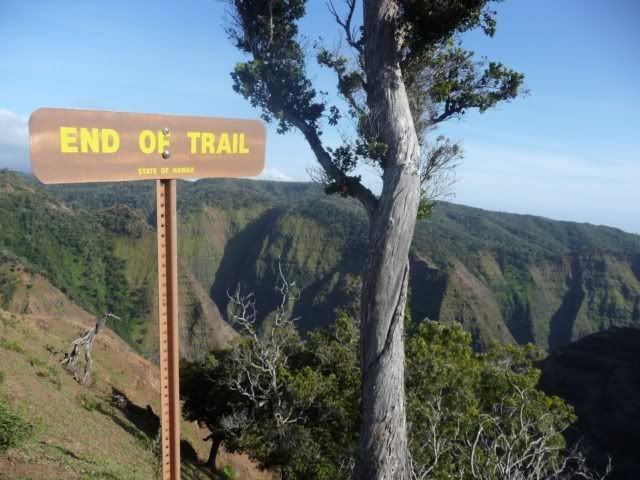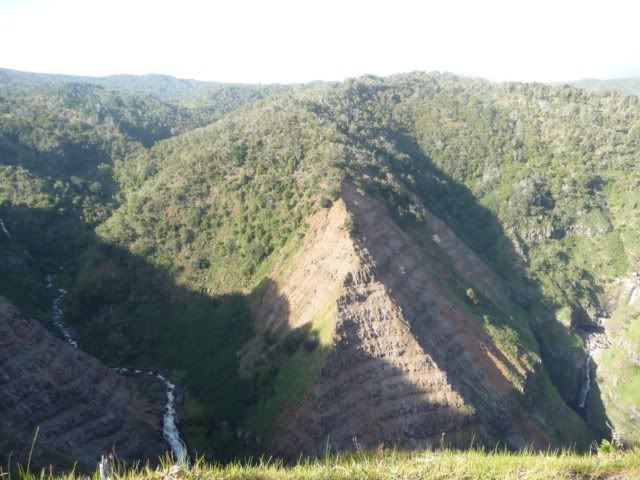 We enjoyed that spot for a while and began our walk home. This is the point we were standing on in the earlier photos.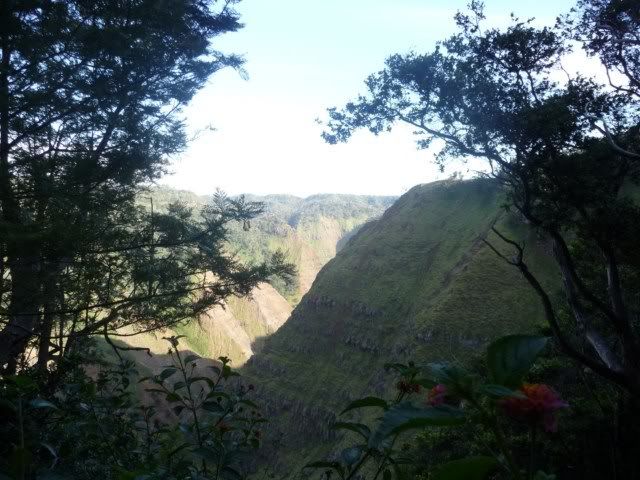 We drove back down the hill. At the bottom there was a sign directing us to the Waimea Brewing Company. Seemed like a pretty good idea. We had to wait for a table, no problem we'll go watch the sunset. This place is on an old plantation and the beach was black sand, was a very cool setting.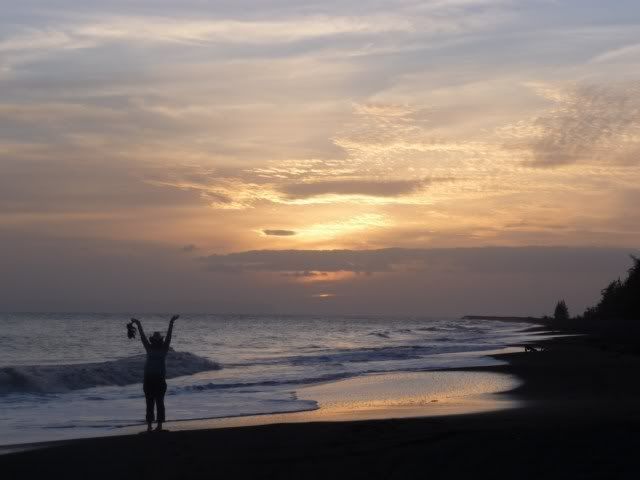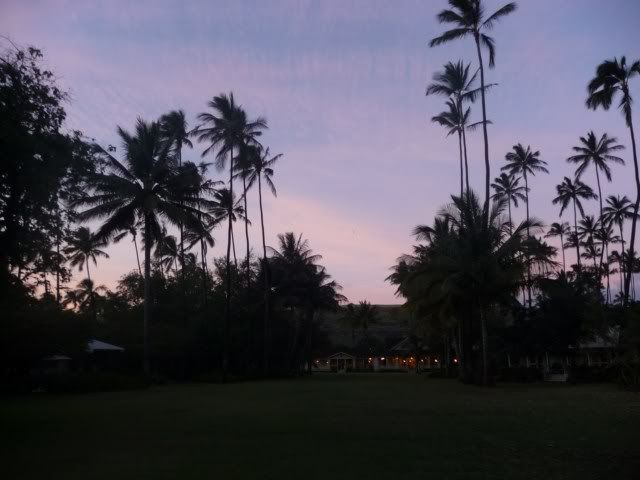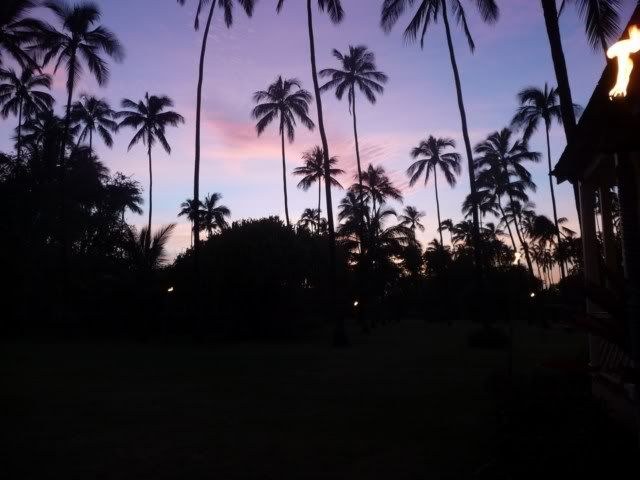 Unfortunately the food sucked and the beer wasn't very good but the setting and live music were fantastic. We headed home, chilled out in a hot tub, met a pot grower from Tahoe and a speechwriter for the Department of Justice. The latter dude was smooth. Cory asked when he's heading home, he responds with"Depending on what we end up doing tonight, my plan is to leave tomorrow". He also came up with, "So what else is Onstead known for? Aside from beautiful women, of course." And, after we left, I had to go back for my forgotten sandals. Sup? I forgot my slippers. "Oh, I thought you were coming back to invite me up for a beer." Valliant efforts sir, I bet he makes contact way more than he strikes out.
The following day was beach day. I wanted to surf. It was up. We rented boards, I caught my first wave and popped right up. We were surfing a beginner wave in front of the Sheraton, I was fine with this since it's been a while and there were bigger waves outside. Problem for me was that they were all reef breaks which I have zero experience with and honestly scare me a bit. I had a problem getting in the pocket and the waves mushed up inside so I basically had a rough time surfing. Bummer. We then drove down a long dirt road to another beach, this place was sick, coconuts and pineapples washing up on shore and everything.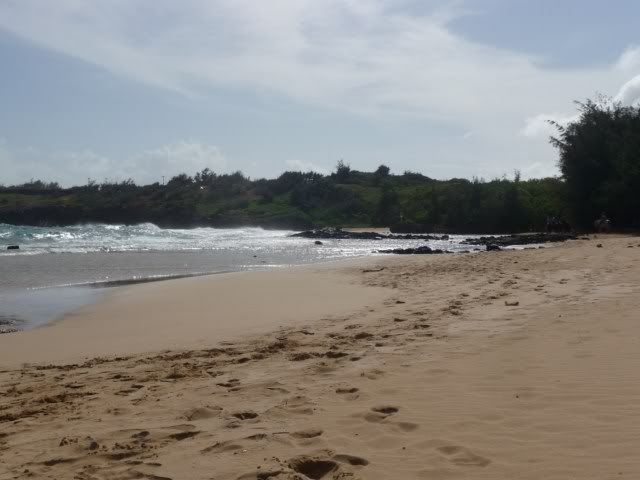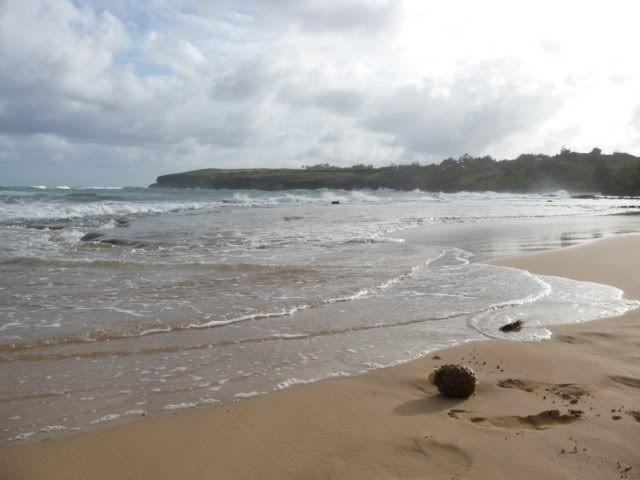 I offered a $100 bounty on a fresh coconut. She didn't get much closer than this, but it was fun watching her try.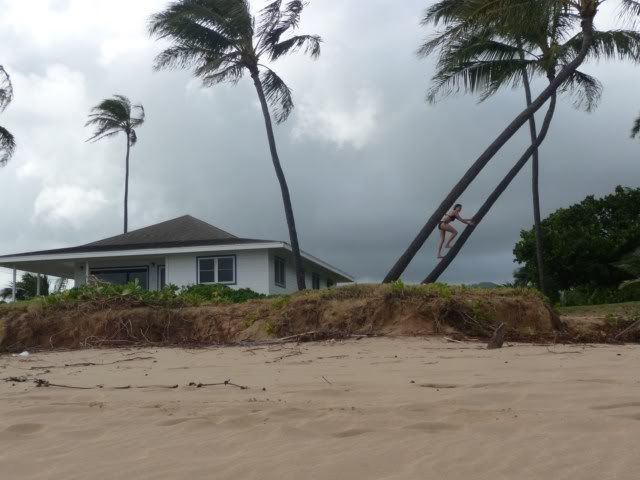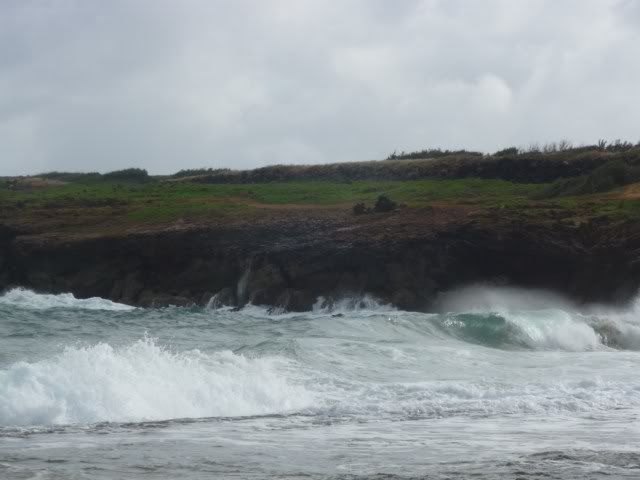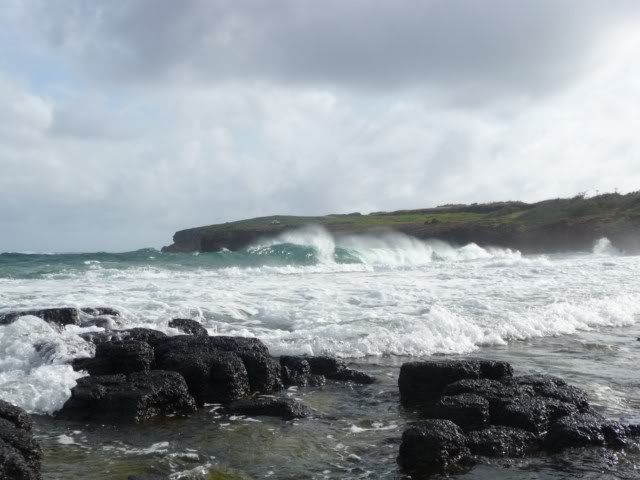 They locked the gates at 6pm so we had to bail, we headed to The Beach House on a recommendation to watch the sunset, and it was a good one.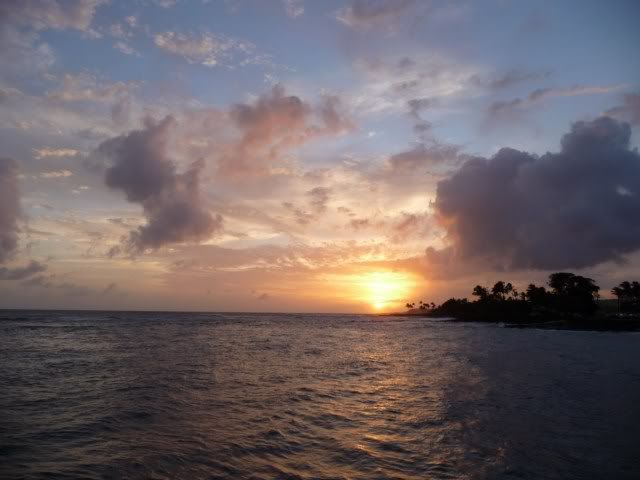 Went home, showered, went to the Stevenson Library at the Hyatt for cocktails, came home for the jacuzzi, and concluded another excellent day. Katrina's birthday began at midnight so we had shots of the local rum we've been using for pina coladas and rum and cokes that has been delicious in those contexts. I've tasted tequila percolated through armpits better. This crap was akin to kerosene. I instantly didn't feel well, my stomach just said, "Nope." I teed up to the toilet, gave one good hurl repelling the shot and instantly felt better. No secondary convulsions. No unhappiness. I rinsed my mouth and continued drinking the Primo island lager that never left my right hand through the whole process.
We call this a good time.
Peace and good luck,
Devo
Filed under: Uncategorized | No Comments »