July 25th, 2012
Saturday night at the rodeo dance I chatted with Travis the leathersmith here in Westcliffe, Colorado.  I was telling him about how I've been happier the last 24 hours than any other day this year, how much I love this place, am happy to be here, and how I want to end up here.  I mentioned that I love Vegas but am always happier in Colorado.  He giggles in a way that says duh, looks at me silly and says that it's because I can't be myself anywhere else.  I disagree, he shuts me down immediately, and says that since I'm happiest here, it's impossible to be my complete self elsewhere. Profound, really.
I mean c'mon.  This is where I'm blogging.  The beer is cheap, the mountains are the best in North America, the people are friendly, and the energy of this place is captivating.  I can't escape it, and I'm kinda tired of fighting it.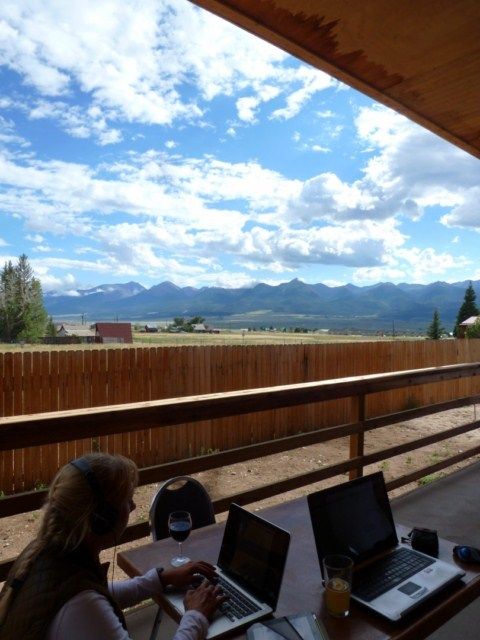 Things would be so much easier if I could work from here.  I could travel for tournaments and stuff obviously, but without being able to play online, living and working from here is pretty dang difficult.  It drives me nuts, and I feel like these next couple months of riding horses all about my favorite corner of the world should reveal where I'm going next.
I'm in a strange spot.  Default plan is go back to Vegas when it gets too cold and slow here, work, finish home improvements, and live life.  Not a bad default plan by any means, however part of me feels like I should take this opportunity I have to travel.  I'm jonesin' to play online; a big piece of me wants to go South and spend my days surfing and playing online.  I fear the same spot as I was in last year though, I don't really want to move to another country.  I love the Southwestern United States. I know I want to end up in Custer County, but I'm pretty sure I couldn't pull off an off season single. I'm still happier in Frisco than I am in Vegas so the jist is that my heart needs to be in Colorado I suppose.
Thus I wrestle with many conflicting desires, knowing that I'm stoked here, I still have an uneasy yearn to wander, and still seek to maintain the opportunity to perform my trade on the world's stage. Good problems to have, but I can't help to feel a bit lost.
I busted out of the Main Event on day 2, closing a disappointing WSOP where I cashed seven times and lost money. My horse and pieces all lost money. I was stoked to get to the ranch but had to stick around for Poff's military ball. Had a blast at that, enjoyed the excuse to wear my tuxedo. That evening my friend from Frisco rolled to town with her family. That induced a Monday night out to Capo's and downtown and Insert Coins that led to a rollaway at the Aria followed by a drive to Lake Mead. I was going to drive back to town Tuesday afternoon, pack up, and head to Colorado. Then my brother said I should come to the Christmas Party in the trailer park that night, and I agreed with him. We met a girl named Bobbi Jo who invited us on a boat ride, Jared had to work, I accepted. Then it was Thursday and I finally packed up and left, pulling into the ranch late Friday night.
I was supposed to be awake at 5:30 am to prepare for the shootout. We were hosting a group of photographers in the morning and evening. They wanted shots at sunrise of horses running by with the Sangres in the background, and we made it happen. By we I mean everybody else that works at the ranch. 5:30 was impossible for this kid that went to sleep at midnight thirty and had spent the past eight weeks waking up at 10:30am or later. I did however wake up to the sound of sizzling bacon at 8:30, and then the day went fast. We served breakfast for 30. A random jam session broke out. We did a two hour ride at noon. Drove to town to buy stuff to BBQ for the same group in the afternoon. Played music with the Bear Basin Band. Went to the arena to play with horses and cows during magic hour for the photographers. Roped my first steer from horseback. I've been trying to learn how to throw a rope, and I've got the throwing part down, but I'm like 5% accuracy on the steer on the stump at Cowboy Camp. This steer was also laying on the ground with it's hind legs roped, making it an easy target, but hey, there ain't no easy target when it comes to me roping things.
Had a blast. Rallied Mike and Willow for the rodeo dance, had a blast there too. Made it home safe, up bright and early the following morning (I still couldn't make it up before eight, but I'm getting closer). Repaired a generator. Refilled a propane tank for the fridge, re-lit the fridge. We don't have electricity or running water at the ranch, the only way to keep things cold is by burning propane and magically turning it into cold air somehow or ice. Did a morning ride. Rebuilt a fence. Went to the rodeo.
The thing is that normal life here is damn exciting. My dream is to own and run something like this; camp, ranch, outfitter, something that gets people outside and shows them the things that I've fallen in love with that makes me so happy. I love it here, I want to be here, I will be here, and for the time being summers is when I should be here. I'm happy pursuing poker, I know I'm doing what I'm supposed to be doing, but when I taste the dream down the road it makes me want it now.
Peace and good luck,
Devo
Filed under: Uncategorized | 1 Comment »