May 3rd, 2008
418 miles today, 723 total…
---
Shortly after writing yesterdays blog at the bar in the Hotel Nevada in Ely, our adventures for the night began. Small town, so our options were limited, however with this group, it's pretty much a guaranteed good time. We hung out at the bar for a while and then went out to explore.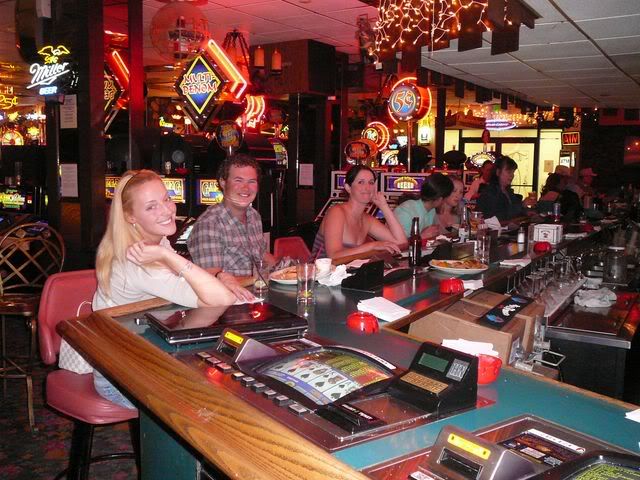 Lacey, Me, Kristyn, Adam, and Brittany.
I had a really sweet pic of Gavin and Bobo but somebody flipped off the camera so I didn't think it would be appropriate :-).
We headed downstairs to the live gaming area, tried to get them to start a poker game, nope. Blackjack is the only thing open, and the table limits were $2-25. LOL. That didn't last long! We decided to explore the town and walked across the street to the Jailhouse "motel" and casino. There was one soul in the place. As we've been exploring these small towns, there has been a theme of haunting and what not and we got the lady working the cage to tell us ghost stories, and she told us about the two ghosts that play poker in the old jail. Well, lo and behold the jail is on the premises, a little begging and bribing, and we're in. It's dark. We wandered around the jail. I naturally found myself in some dark corner, and unfortunately for Brittany she was the first one who happened to wander by. It was a good scream.
Back across the street, we decide to play pool, and I beat Gavin two racks in a row to get myself back to up $100 after the schooling in rock-paper-scissors he gave me in jail. Bed.
9am. Knockknockknockknockknock. Seriously is there some code of housekeepers to harass poker players as much as possible? Why are you knocking at 9am when check-out is at 11am? Seriously. I have to check out and give you the key. I obv haven't checked out. I don't want towels or my room cleaned. I'M LEAVING IN TWO HOURS.
Breakfast, and off we go on a fantastic day of riding.
Here's where we stopped after 60 miles: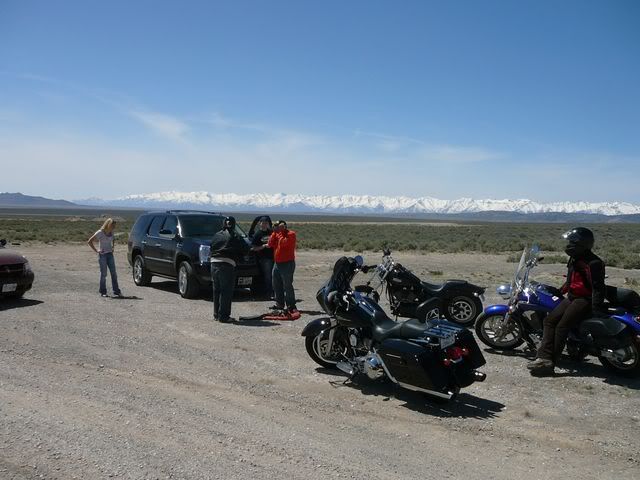 Lacey, Gavin, Ryan, Bobo, Kristyn, nose of the minivan, the Escalade, two Harleys, and a Honda-Davidson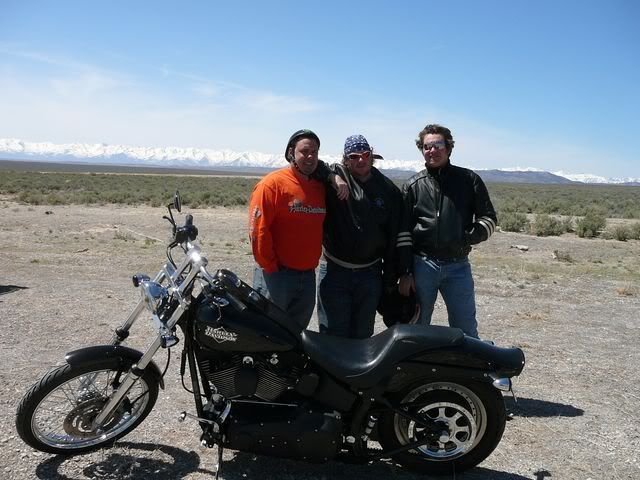 Bobo, Gavin, and I, Bobo's bike
The country in general up in this neck of the woods was just beautiful. It reminded me desperately of my favorite place anywhere, the Sangre de Christo mountains in southern Colorado where I guided in 2003 and spent much time while living in Colorado. And this was in northern Nevada . Not exactly what I was expecting!
It was great riding in beautiful weather (little chili, but whatevs…) and just having hours to be alone with my thoughts. I've been trying to process a lot of things but I am quite lost as to how I should be processing them. I know I should be feeling something, and I know that I'm feeling something, but I don't know what I am feeling AT ALL, nor do I know what I should or expect to be feeling. I do know that I've felt pretty numb lately emotionally, my appetite hasn't been too strong, and I've been moodier than I normally am. I don't even know what all that means LOL… except that something's going on, and hopefully with hours in the saddle and miles beneath my tires I will be able to sort/figure some things out with solitary thoughts and prayers and the conversation of the good people around me. Bobo's been especially helpful since he was there to see everything that happened that Saturday, and Lacey's been helpful with her excellence at conversing and the similar experiences that we've had.
We finally saw our first traffic light in over 500 miles in Twin Falls, Idaho, where we took a detour to a place that I've been wanting to see for a while called Shoshone Falls.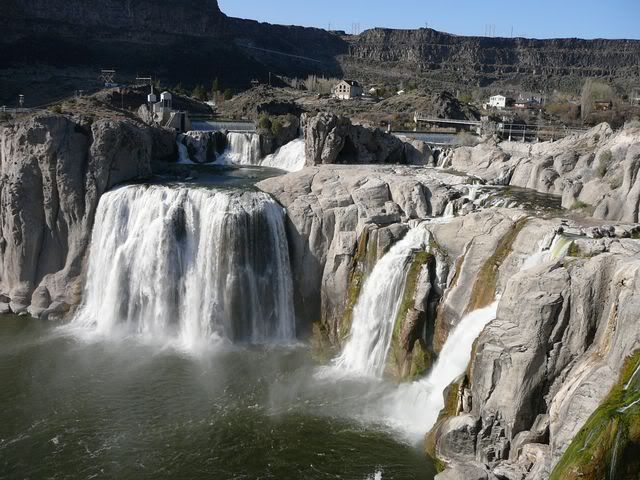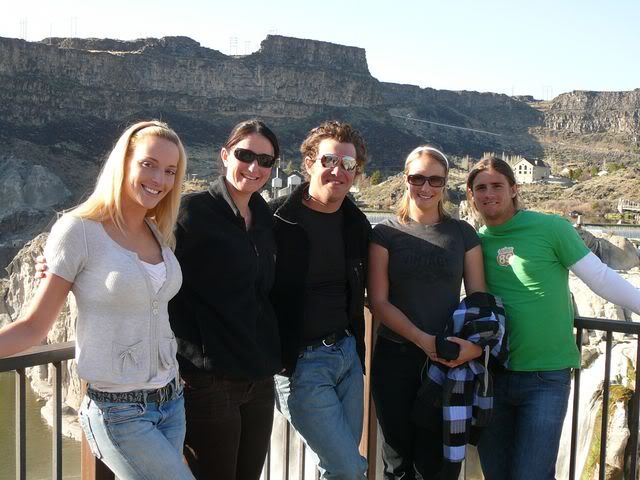 Lacey, Kristyn, me, Brittany, and Adam at Shoshone Falls
After that awesome stop we charged 120 miles to Boise, ID. This leg of the ride was fantastic. We tore into the sunset at 90mph, and with every white line that passed beneath my feet the shadows chasing us grew longer. We dropped down into a gorge following the Snake river, had a little bug run (high speed open vehicle ride on or near water at sunset… all the bugs come out then, gather around water, and end up on your forehead, glasses, teeth, nose, etc at whatever speed you are traveling) where Bobo won for the most bugs killed by high speed face.
We made it to Boise in high spirits and got kicked out of our hotel room within an hour of arrival. Fortunately we had gotten four rooms, all congregated in one, and kicked us out of just the suite. I was pretty proud of checking into two hotel rooms within 90 minutes of each other in a town that I have never been in before. First time I've ever been kicked out a hotel before. Seriously though, who complains about partying at 9:30pm on a Friday night in a downtown hotel? We went to dinner, and after we were done eating I had to bounce. I am pretty tired and haven't gotten a good night's sleep since before the $25k. I'm tired, and it prob'll be tough to get a good one tonight also. It is definitely a wiser play than going out tonight though…
Tomorrow we're going to try and push as far to Seattle as possible so we can make it to Vancouver by 4pm on Sunday. Loving this trip!
Peace and good luck,
Devo
Filed under: Life