May 20th, 2008
---
Last Thursday Rick Fuller left the hotel room early with out a room key, waking me up as he left, and waking me up again twelve minutes later when he knocked on the door. Fine… I'm up. We actually had a nice morning though looking at the solo seagull flying laps over the parking lot. Guy looked lost. It was a beautiful morning though and it was nice to sit and have a cup of coffee early on a balcony. Then I realized that our vehicles were the last ones left in the parking lot, and a had a quiet laugh to myself about our concepts of "morning".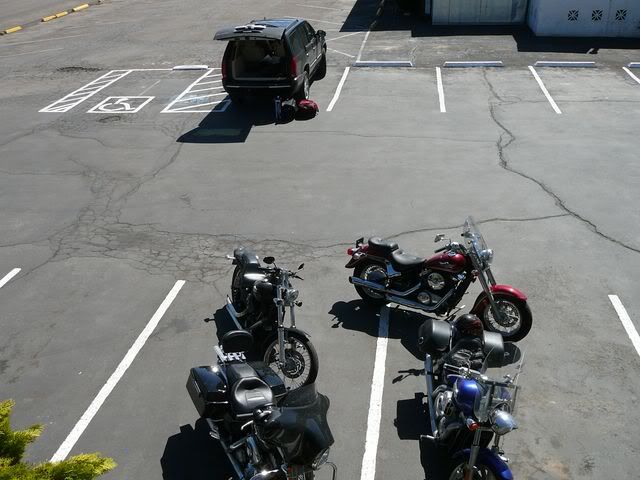 From there we left to take the scenic route. Some locals in town said it was "about the same time" to Reno. Well, after riding West for 45 miles (which was a very beautiful ride), we pulled into this little town called Adin. I didn't think there was any way that this was a small detour since we needed to go South and East not West. We had to get Rick to the airport by 3pm and I felt like we were going to be cutting it close. I wanted to make sure he got on a plane and couldn't hang out with us anymore. As we're slowly cruising through this small town, Gavin says, "I'm thirsty." We are literally right in front of a general store and immediately stop. As I'm getting off my bike I spot this kissing booth with nobody in it and a sign that reads "Kisses $100 (crossed out) 50 (cent sign)." Before I can say anything, I notice Rick quietly sitting in it, and by the time I get my camera out this happens.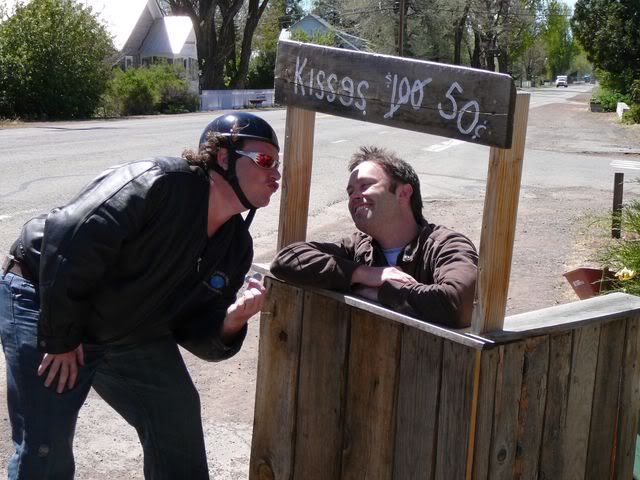 In the store I discovered a map and realized that we had been riding South-southwest for most of the ride, and would have to come West on 395 anyways, so it really was a short detour. Nice. We took off on this awesome highway that went over hills and through valleys. It was a truly fantastic ride. At one point on a long straightaway, Rick pulled up next to me in the opposite lane, riding south in the northbound lane for as long as he could. I spotted a vehicle in the distance and slided over to the right side of my lane to let Rick have some room. Rick slid right about the same time I did and I was focused on the car. Rick, however, was focused on the suicidal squirrel that was about to stop nineteen feet in front of my front tire and stand up. Turns out Rick didn't even see the car and was "pretending" to hit the squirrel and ended up chasing the kamikaze squirrel directly into my path. I hit the front and rear brakes hard, locked up my rear tire, knew that I couldn't swerve, and braced for a really big bump at 85 MPH. I think they were filming a commercial though because at the last second the squirrel dived off the road and was seen high fiving another squirrel on the shoulder. Seconds after safety I completely lost it falling over in laughter at what the heck had just happened. So funny.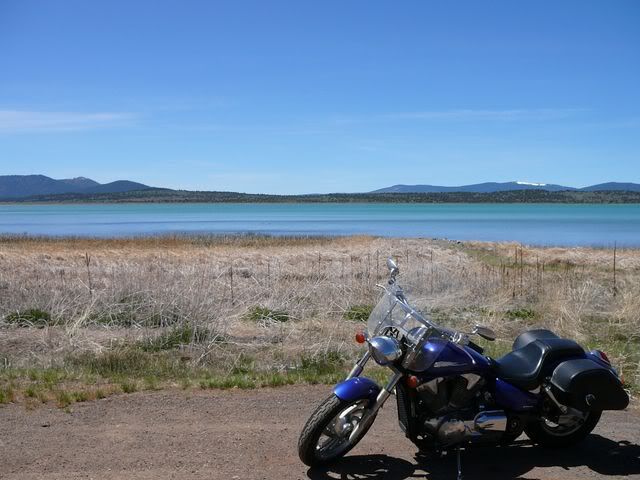 We continued down the road and eventually made it to Eagle Lake which was a beautiful ride. We rode on to Susansville where we stopped for lunch while Rick did a radio show with Jerry Yang and Ryan received a "crash" course refresher in riding a street bike since he was going to be riding Rick's bike the rest of the way back. On to Reno, and we were able to take off our jackets for the first time in the trip. Dropped off Rick, and we began the ride down to Carson City and up the hill to South Lake Tahoe. It was fun remembering memories from my early teen years in this area, and one of them was seeing a bunch of drunk Australians getting off a boat in Zephyr Cove that happened to be an all you can drink sunset champagne booze cruise. When Gavin heard this story, he uttered what has become the mantra of this trip, "I'm in."
So we ride over Spooner Summit, by Spooner Lake, and see Lake Tahoe emerge through the trees in front of us. "If this hasn't been declared the most beautiful place anywhere, let me declare it to be the most beautiful place anywhere." Gavin on Lake Tahoe. At this point I discovered that my camera battery was dead, so I could not shoot any pictures. Sad.
We rode down the hill to Zephyr cove, it was five o'clock, and we wanted to investigate the booze cruise. Turns out the boat just left, but we did discover something that I had completely forgotten about. Sandy beach with a bar and a patio. Calm lake. Sun setting. Snow on the mountains across the lake. And a bartender who made the best damn Pina Coladas ever. We found out that there was a secondary booze cruise leaving at 6:30 on a paddle-wheel boat and decided to stay for a few cocktails and then decide if we want to go on the boat. Off come the jeans and boots and on go the boardshorts and slippers - heck yes!
The Pinas hit very well and I walked barefoot in the sand with one in each hand. Gavin walks up and says, "Devo, $200 if you jump in the lake." Now, I had already touched the water, and I was like, hell no. I point to this big bic'd head dude and say, "He'll do it." Gavin hollers at him and says, "I'll give you $40 to jump in the lake." LOL. Dude definitely heard the $200 offer, and turns out to know who Gavin is and is a really really big fan. He jumps into the lake, collects $40, and proceeds to lose it to Gavin in Rock Paper Scissors shortly thereafter. Nice.
After the sun set we cruised over to Harrah's South Lake Tahoe. Gavin got us all comped rooms, and the same pattern that had happened for the last fourteen nights happened once again, but this time it was our last one. We had a great time, ended up at Vex, and passed out somewhat early at 2am.
The next morning we began the long ride from Tahoe to Vegas. It was beautiful coming down the hill, and we were riding in T-Shirts. Around this time I learned the value of sunscreen as I was burnt pretty bad on my face and arms. Whoops! Then, for the second time in two months, I traveled South on the 93 with a pile full of cash, except this time most of it was brown Canadian money. I thought that was cool. We made it all the way back to Vegas and I was falling asleep on the bike by the time I got home. I spent the night unplugged and it felt great. I had just completed the most incredible road trip of my entire life. Every single day was in the top 5% days of my life. I was exhausted.
Next morning I wake up, run a couple of errands, and then was chilling at home when an alien walked through the door. It was a short Hawaiian guy named Derek that used to work at Half-Shell with all my roomies. "Wanna go to the lake?"
We're going to the lake. It was the 2nd annual Half Shell houseboat party, and I had such a good time last year there was no way I was missing this one. We had a great time. On Monday I had to come back to run an errand and decided that I would take one of the jet-skis back out to meet everybody after a few hours.
Note: When i say jet-ski, that means a stand up jet-ski, the original ones, not sea-doos, the big couches. This is like confusing skis with snowboards, Dodgers with Giants, Bruins with Trojans. Know this. I get to the gas station, fill'er up, turn the motor, and can't get it started. Damnit. The weather is perfect and I am going to the lake. I don't want to rent a sea-doo cause it's not a jet-ski. None of the 4 other jet-skis at my house are running at this time, so… screw it. Jared and I saw a pair of new Kawasaki 800s at the bike shop when I put the pipes on my motorcycle, and twenty minutes later i walked through the doors, spotted the blue one I wanted, walked up to a group of salesmen standing around doing nothing, and said, "How long would it take to have that blue stand-up in the back of my truck driving south on Boulder Highway?"
Guy thinks a moment… shrugs his shoulders and says, "Bout 20 minutes."
"Sold."
Easiest commission that guy ever made.
Turns out he made a really good speech, because 90 minutes later I was on the way to the lake, and since he collected the cash immediately I couldn't leave and tell them to pound sand, which I certainly would have done. Here's how it went down:
We negotiate a price, I hand him the cash, he counts it, he counts it, shakes my hand, and said I'll get the paperwork started. 5-10 minutes pass, he returns, and says, "K lets push this ski to the back to have it prepped." He returns after five minutes and says, "K it'll be about 40 minutes." I semi-blow a gasket because I realize what he did, but am pretty stoked to get this ski so I use the time to buy a bunch of crap, go to the gas station, and mix a bunch of gasoline. Oh, when I bought all the stuff, I took it to one guy who rang it up, and then he sent me to the cashier to pay for it, and then I had to go back to him with a receipt and get the product. WTF? I hate having my time wasted. Wasting my own time I am very good at, but when I want to be doing something else and stupid policies waste my time I steam quick.
Anyways, after I get back I run into the salesman who hands me this white sheet of paper and asks a bunch of other salespeople if they can help me with whatever this white paper is for. They ask if anybody has been helping me, and I indicate the only guy with a customer right now. They ask me to wait for him and then go back to doing nothing. I wait for about ten minutes wondering what they want me to do now, and find out that it's all a sales pitch for accessories. "Do you need any lifejackets?"
"No thank you. I have everything."
"So you have a helmet and everything?"
"I have everything I need."
"Are you sure?"
"Yes."
"Ok, let me go get a checklist for you to look at." He then vanishes into the back and I completely blow a gasket. He comes back out, shows me this checklist that I kid you not includes "tow-rope" and "sparkplugs". I go nuts and say "I told you I don't want anything! I just want to leave with my ski!" Drove me nuts. Wait another ten minutes, then I have to go sign papers with the manager, and he gives me a speech on trying to sell me additional warranties after I tell him I'm not interested after 45 seconds. I lose it on him, I finally sign the papers, and off I go. Get to the lake, and she was everything I had hoped for and more. Jared and Danny were pretty excited also, and it was funny watching them fall over the houseboat ropes trying to run to the ski first.
Phew. This has been the best series of vacations ever since the 25k. They are going to continue again this weekend as I head to the river for our annual Memorial Day trip which I'm psyched for, and then I'm back on the horse playing online and getting warmed up for the Series which starts in just twelve days!
Peace and good luck,
Devo
---
Note: I've received some criticism for an interview I did with cardplayer where I discussed Phil Ivey's play at the Reno final table. While I did say he made a bad laydown based on his stack size, I also said that he was a sick handreader and very good at the game. I gave him plenty of praise also which was not published in the article. Also, I have learned about the Michael and Phil's relationship and it makes more sense to me. Point being: I'm not some cocky bastard talking shit on Phil Ivey.
Filed under: Life, Uncategorized