August 14th, 2009
The night of Day 14 was probably the coolest night of the trip so far. After finishing the last blog I went downstairs to the Whistle Stop Bar, ordered a pint of Grasshopper, played a round of Golden Tee, and then met four dudes from the UK. Stuart from Wales turned 22 that day, so the show was on and I ordered a round of red headed sluts. By this point Fuller had waken from his old man afternoon nap and joined the festivities, which carried into another clubish bar called Pete's, we all had a great time, and by the time we had enough, Fuller decided that we were going for a walk.
Turns out this walk was a large animal hunt, but I didn't know that until the next day. We got to the trainyard and I said, "Let's go in." We did. We got to the first train and Rick got the great idea to climb a train and "run across the top jumping from car to car." Too bad it was a coal car. I still wanted to, but Rick talked me out of it. We headed for the passenger train on the far side of the yard.
On the way Rick says, "Moose!" Now this was awesome cause I've never seen a moose, but it wasn't awesome because it was a cow elk. But it was less than 100 feet away when we spotted it so it was awesome. She was aware of us but really didn't care about us being there. She let us get pretty dang close until we were bored with the elk and moved on to the passenger train.
I climbed the engine easily, but the gap between the engine and first car was a doozy. Shrug, did it anyways, and then James Bond style ran across the top of the train, jumping the two foot gap between cars. I could have just stepped across the gap but that wasn't as much fun. I got to the caboose and saw a 15 passenger van parked right there, and it seemed like there should be a person nearby, so we snuck back to the front of the train, down, and off.
Walking back across the yard toward the hotel we came across another elk, and then another, and then even more. We spent a long time hanging out with this herd, and at one point there were 15 elk within 200 feet of us, half a dozen within 30 feet. We were right in the middle of a herd of elk. A train was pulling into the station, we decided to lay low until it came all the way in cause we wanted to see how the elk responded. They didn't care. Stood there and kept chewing the grass. We climbed over the train between cars, across the others, and out of the yard.
Day 15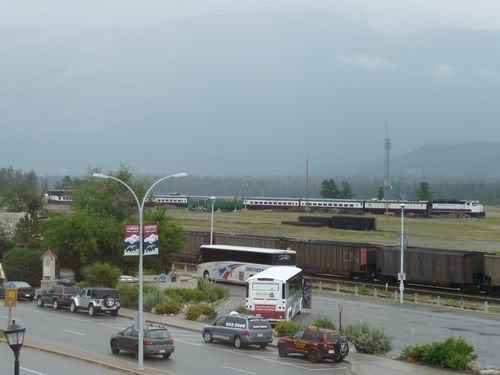 View from the hotel room, the trainyard and passenger train.
We left in rain and rode south through Jasper and Banff National Parks, and by the time we reached the Columbia Ice Fields most of the rain had stopped. I insisted on stopping often to take pictures of "rocks, snow, and water".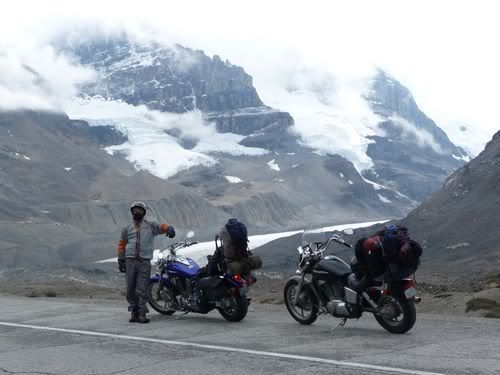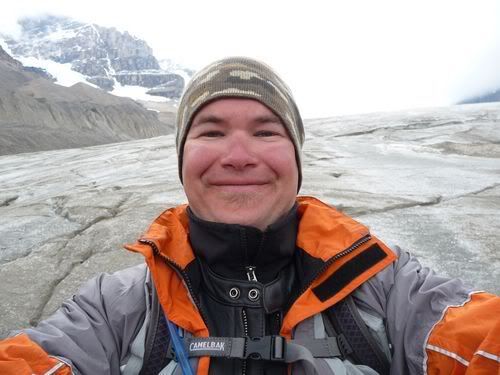 Walking on a glacier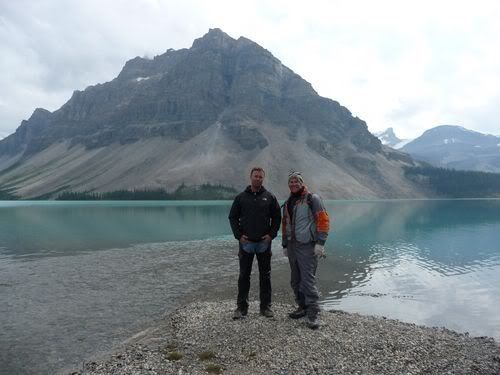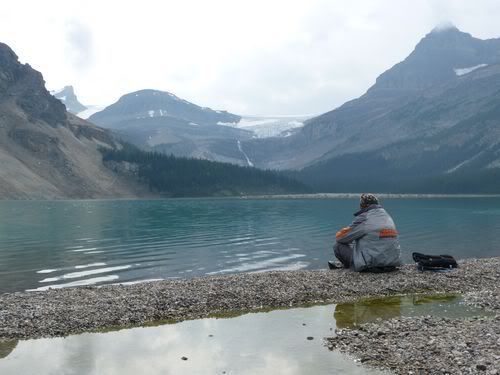 One of my goals while in Banff was to get to this lake:
About 9 years ago I painted a watercolor for my ex and it was of that lake. I had always wanted to stand in that spot where the view of the painting was from, and I got to do that finally. Unfortunately (for most of Banff) there was a ton of people around so it wasn't as awesome as I had hoped. But, it turns out that Fuller is the Chipmunk Whisperer.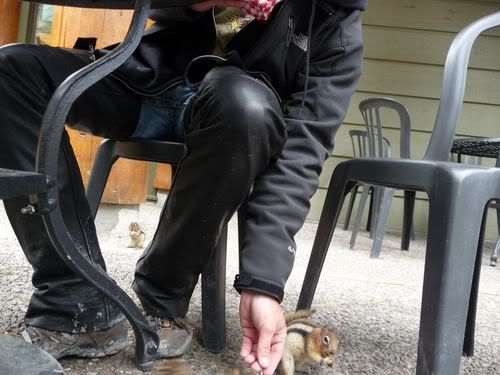 It all started when Rick was trying to feed the chipmunks by hand, which seemed a little aggressive. Then while we were focused on the ground munks, one of them vaulted off Rick's inner thigh, off his chest, and up onto the table.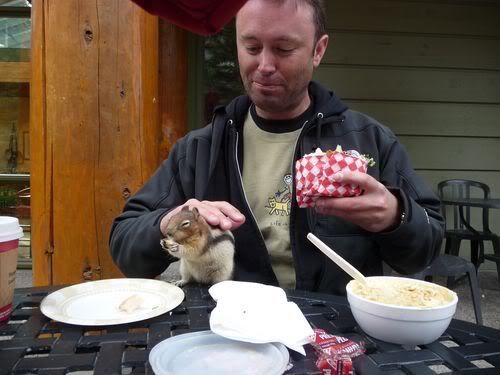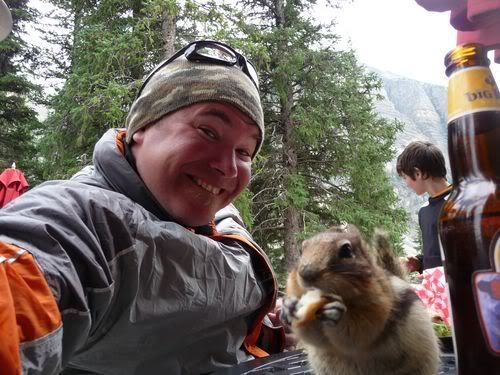 Hiking back down from the Moraine Rock Pile there was a trailhead to the backcountry Consolation Lakes. At the trailhead was a big sign that said it was law to not travel alone back there due to bears.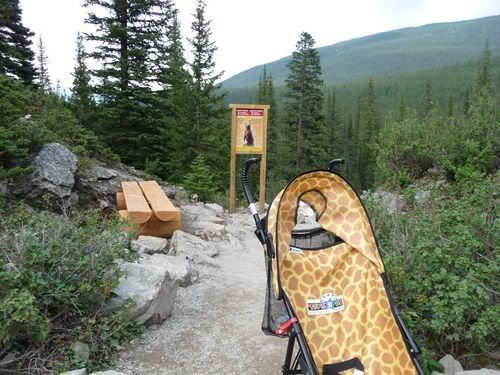 There was nobody else around.
From there we rode hard through rain out of Banff, eventually making it to Radium Hot Springs, a town and hot springs. We stayed at the lodge across from the Hot Springs (which had been commercialized into a huge pool), came back, got the front desk girl to open the bar, and we stayed until the bar closed.
Day 16
We rode south out of Canada, they heard "poker" and sent us to secondary, but just asked us to stay a little while, nothing more. We were waiting when the dude walked out with our passports and said, "Thanks." We rode to Rick's friend's house on Lake Pond Orielle and I spent hours chilling on the deck watching thunderstorms roll in and trains whistle by.
Day 17
Rick left this day, headed back to Seattle and it was time for me to make up for lost time and get east. I commenced hauling ass across Montana, hit rain in Glacier National Park, and fortunately it cleared by the time I hit East Glacier Park because I probably would have stopped. Instead I kept going and ended up camping at Lake Francis, a tiny lake in the middle of eastern Montana. Why is it that the eastern part of every western state sucks? Even North Dakota was awesome on the west side. Eastern Montana was the worst though, which I would learn about the next day.
I pulled into this little lakeside campground, asked this lady if there was an office or something, and before I had even gotten off the bike I her husband had given me a Bud. Awesome! I hung out with them, Brenda and Scott, and their friend Stacie for the entire night. They were awesome people, super generous and hospitable, and a ton of fun.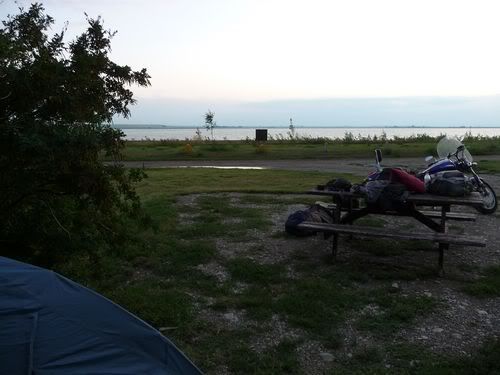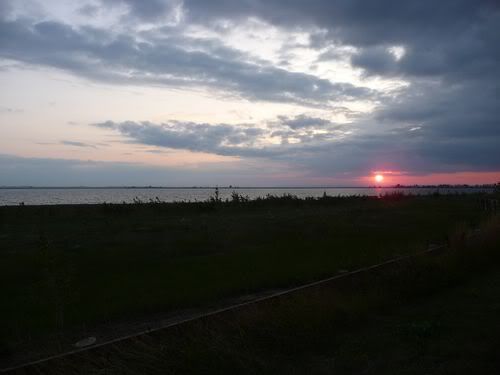 Day 18
Ugh eastern Montana. Should be a new state called Western Dakota. Montana highway 200 was so desolate. I met one of the dumbest human beings I had ever talked to on one of the gas stops. I got into North Dakota, stopped in this one town that I forget the name of for dinner, and it was as cowboy as it gets. I stepped into the Saloon, and it was a damn saloon. Hats and button snaps and jeans and boots everywhere, like a movie set it was so perfect. They all looked at me funny in my rain gear and raccoon eyes, I went upstairs to eat, and left quickly. I stayed at this little RV park, pitched a tent, and left quickly in the morning.
Day 19
Today was Sunday and I was going to try to get as far east as I could before getting a room and playing online. I was a bit worried about my oil as I hadn't had a change in a while so ended up stopping a bit earlier than I wanted to in Jamestown, ND. I went downtown, it was dead, found a hotel, checked in, and found myself in the "Gambler's Suite." It was sweet. And accidental, although she commented on my Nevada ID upon check-in. I somehow managed to not take any pictures of it, but I did shoot a video blog in the room. I sucked at tournaments, did well at the new 7deuce games on Ultimate Bet, and walked to a bar downtown for a couple of drinks. The bar was a liquor store too, and turns out that's normal. Brilliant. Bar closes at 2am, buy beer, go home.
Day 20
I had to get to Minneapolis so I could make it to Chicago the next day, did easily, and had a good time hanging with friends. I didn't really see anybody besides big Lisa, Tammer, and Kenny that I hadn't seen in a while, and the dinner group turned out to be a bunch of good friends that I still get to see often. That was cool. The night ended early which was probably a good thing so I could get an early start to Chicago the next day.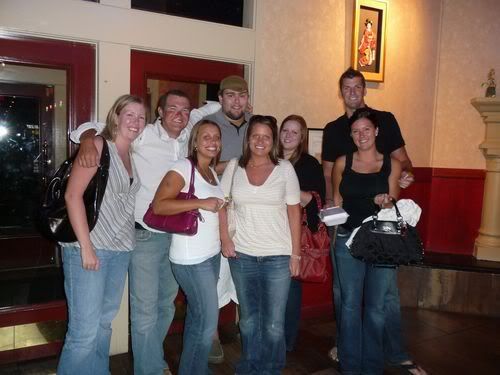 Day 21
I got on the road by 9:30am, hauled ass across Wisconsin, and immediately got tilted by Illinios. Toll roads and traffic for mile after mile, but all was better when I finally got to Toyota Park, home of the Chicago Fire, and venue for Phish tonight. It was my first Phish show and a great time, a dream realized a bit, I am so stoked that I got an opportunity to see them and they didn't stay broke up. They're so good live and such amazing musicians. I wanted to hear "The Squirming Coil," and I got my wish to close out the 2nd set, an amazing rendition of the song which finished with a long piano solo and a spotlight on the piano. It was awesome.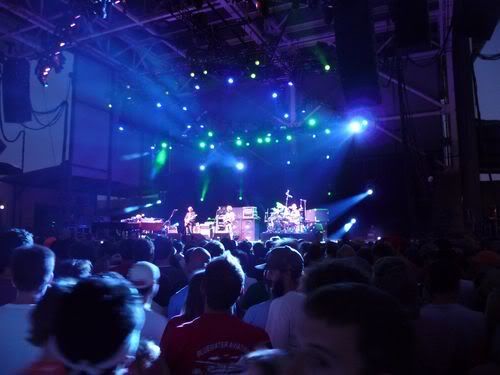 Day 22
Wasn't anything special. Billy and I hung out in his 13th floor downtown flat, grinded, and relaxed. I was supposed to leave this day, but decided that a day game at Wrigley was in order the next day. I'll come back with that hopefully sooner than later
Peace and good luck,
Devo
Filed under: Uncategorized