April 16th, 2011
I made my way over to the Ameristar Friday afternoon. The hour drive from Summit County to Blackhawk is a fantastic one, it was a beautiful day, bighorn sheep in Georgetown as usual, and I was feeling really good. Checked in, was upgraded to the best suite, I shot a video blog in the joint, check it out. Place was sick.
When I tried to upload my video blog the Flip program was convinced that I had my 2nd monitor attached to the laptop, even though all the graphics settings claimed that I was running just my laptop monitor. Amusingly tilting, I giggled and went down for my walk across the street to the Golden Gates.
I was super stoked for this event. I became professional in Colorado with much thanks going to two prop jobs in Cripple Creek. This place holds a big piece of my heart and the field was going to be extremely soft, plus I've cashed zero times live this year so have some rungood stored up. They were scheduled to start at 5pm, actually started at 5:40, and in the meantime I chatted with Floes, ChancesCards, and a couple other guys who made up the entire contingent of professionals in attendance. We were talking about taxes and how much easier it would be for everybody if we talked about it more. I said, "The IRS walking into the Series would be like INS walking into any restaurant in Southern California."
We received 25k in chips and were scheduled to play 12 40 minute levels with a 15 minute break every four levels. We started at 100-200 and were going to end at 4k-8k/1k. Nice structure for a $1650. I lost QQAT, chipped up a bit, and then got 20k in with QQ and lost to AK in level 4, 300-600/100. Nice and quick just how I like it.
I was done before Cory arrived. I found an open seat in a 30-60 game at the Ameristar somehow, won $250 in half an hour, and then quit to meet my fiance. She got a ride up the hill from my future cousins in-law and I was prepared to show them a good time.
After a killer dinner at the Timberline steakhouse inside the Ameristar we met up with the HPT crowd at the circle bar. Jen, Todd, Fred, and some other characters were there having a good time and we joined. After some drinks they wanted to play craps so we did and all who played won money. Shortly after they picked up our drinks and our best roll of the night, a nice solid 30 minute roll by future cousin Mary, they decided to gas the minimum bet on us from $10 to $15. Most places will let those who were on the table at $10 continue to play for the $10 minimum. Not at the Ameristar, no grandfathering in here. I threw a fit and it was a losing battle, we said screw you and quit. We invited our entire half of the craps table upstairs and the game broke.
Sometime around 4:30am I kicked everybody out. Good times were had by all.
The following day Cory and I had intended on going skiing, but a noon and groggy wake-up cancelled that plan quick. We found the all day breakfast place at the Gilpin which was fantastic, then made our way down to the Riviera because we heard that they spread Pai-Gow. I had the best gambling experience that I can recall. Super friendly staff all around, prompt cocktails, no nit picking, and as a bonus the dealers made lots of mistakes. Dealer errors cost them at least 8 units from us and turned our losing session into a winner.
Headed back to the Ameristar, chilled out a bit enjoying our in room jacuzzi, and waited for the girls to arrive. I invited the whole crew up for the weekend, they bailed on Friday night but were bringing eight tonight.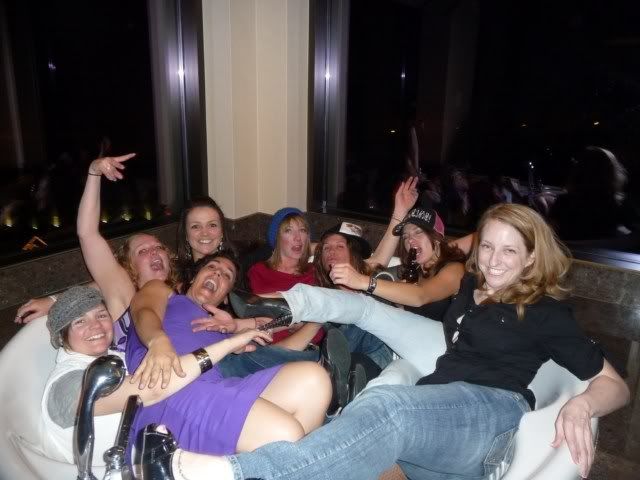 After a beer in the room we headed downstairs. Dinner at the same place cause it was so awesome. We didn't want to gamble at the Ameristar, partly due to limits and partly due to last night. Found out the HPT guys + Darvin Moon were over at the Mardi Gras. Made our way over there, thoroughly enjoyed the place. Right up my alley. Upstairs bar was awesome, they had a craps table there that we destroyed, and then we decided to continue down the street.
Immediately after paying for a round of drinks at the Lady Luck next door we got kicked out for being too drunk. The offenders? Cory and Robyn, the most sober and completely un-drunk people in the party. Mind you we ten expert drinkers approaching our 2nd bar after 1 beer in the room. It was absurd, we all left, I'll never go back to the Lady Luck again. We went to the Riviera, again had a great time, and left after last call to head back to the room.
Jenny, Missy, and I wanted to go throw some more dice. I've been on a craps heater this trip. We walked across the street to the Lodge, I sevened out quick, and Missy started a roll. She was doing well when she was pulled away from the table by a supervisor and a security guard. They were kicking her out for being too drunk to gamble. We were all drunk by this time, but causing zero trouble. She was taking her time shooting, which is her baseline, she's an extremely dramatic shooter. But the pit boss never said a word to her, and they kicked her out of the place mid roll.
I blew up. We all snap quit, took down all our bets, picked up our pass line bets, and cashed out. I loved The Lodge back in the day, but I'll never be back there either. The girls left to go play elsewhere and I went back upstairs to be with Cory. It's fun having a ring on her finger and I'm proud to have put it there.
We took our time waking up the following morning, declined an invitation to breakfast from the team, and had lunch in Idaho Springs on our way back home. Spent the rest of the day being lazy and together, watching the snow fall in Summit County. It was good. Drove her to the airport, came home, and went to Jonny's for karaoke. 8 of us had a great time, I called it a night and went home. Played some 40-80 8 game, won $3800.
Following day was a powder day, 8 inches at Breck. Made it up with Brandy the house-mate early afternoon. We met Chance for a few runs and then were on our own. Ended up doing a few runs down the North face of Peak 9, those sick steep double blacks, and the snow was perfect. We found some clean lines and the condition was excellent, wish we found it earlier. Chance talked me into Monday Funday, which ended up being not so much fun cause he had to drive down the hill and pick up his brother. Still a great day.
Today Brandy and I were planning on going fishing but he woke up ill. While pondering whether or not I was going to go fishing, pouring my coffee looking at slightly overcast skies, I found a fish online. By the bottom of the first mug I was up a dime. Nice. Took care of some business, went to lunch, played a few sets on Rock Band 3, and then fired the evening session. I played well and cashed five times in less than 15 tournies but ran poorly down the stretch. Final table bubbled the UB $20k, AK<66. 14th in Maria Ho's $320 $50k, 12 paid, AJ

Peace and good luck,

Devo

Filed under: Uncategorized